Brand Marketplace
Potency's founder, Mandy, has a passion for the good stuff. Whether it is the amazing products she utilizes to nourish her skin, the foods she consumes, the cannabis she utilizes, or the products she cleans within her home, she knows the value of natural, safe, effective ingredients. Mandy also knows just how hard it is to find consistent brands offering quality and value, so when she does, she loves to support the brands doing just that. So without further ado, we bring you the Potency No. 710 Brand Marketplace!
Mandy's love for plant-based skincare products didn't start with Potency No. 710. For over 20 years, she has been a fan of, utilized, and been a representative for Yonka Paris! Yonka was founded in 1954 and, over the years, has become an international leader in beauty expertise. This French-made professional-grade skincare line offers clean, scientific, plant-based formulas for all skin types. According to the brand website, at Yon-Ka Paris, they "thrive in developing therapeutic experiences, which strengthen and rebalance vital energy within everyone through effective, phyto-aromatic treatments that align the senses and benefit the whole being."
Jane Iredale, the skin care makeup company, is another favorite of Mandy's. This is because these products aren't just cosmetic but also offer substantial benefits to the overall health of your skin. Jane Iredale offers a full line of makeup products made with cruelty-free, natural, vegan ingredients. According to the brand website, their "skin-boosting formulas combine smart skincare science and powerful natural ingredients, so you can enjoy long-wear performance while strengthening and nourishing your skin!"
AIMA was founded by women that understand both the physical and mental pain that period discomfort and trying to find relief can bring. That is why they have scientifically formulated a cannabinoid-infused holistic product targeted at bringing much-needed relief to the millions that suffer from period discomfort monthly. OVY Relief by AIMA is a vaginal suppository that takes relief directly to where you need it most. This product has also gained the Physicians Cannabinoid Council Quality Verified Seal. To learn more about the brand, check out our article with exclusive quotes from one of the co-founders here, or head to their website today!
Founded by the lovely Davina, Element Apothec is a household name at the Potency No. 710 headquarters. The Be Well tincture has been a fantastic addition to the daily ritual of self-care, and the endocannabinoid system appreciates the nourishment! Element Apothec also offers tinctures in various formulations and strengths, as well as CBD patches and more. Use code Potency at checkout for 10% off your order!
Sip with intention when you experience this bold, liquid botanical drink that includes no added sugar, caffeine, artificial flavors, or buzzwords! Made with plants and other botanicals such as ginger, bergamot, grapeseed, yerba mate, and dandelion, to name drop a few ingredients, this product is excellent just as it is or when used to make a low-key cocktail. Mandy personally loves to have a glass while cruising in her electric boat, watching the sunset!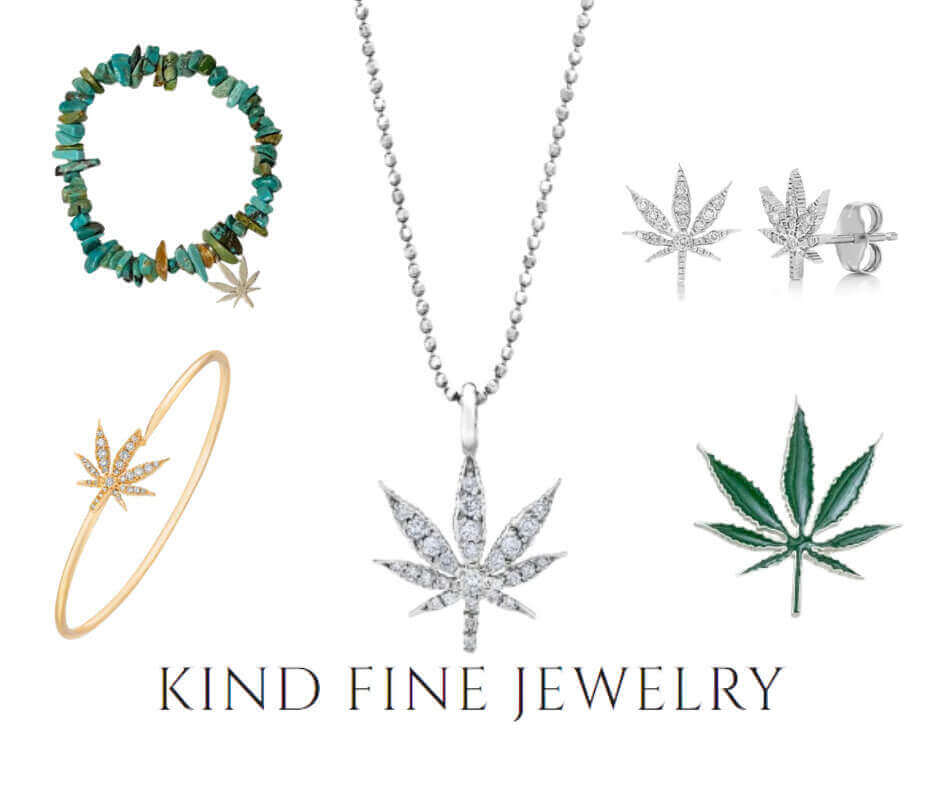 Kind Fine Jewelry was founded by Shella Eckhouse, a private jeweler, jewelry designer, and graduate gemologist. Through the use of hand-picked gemstones and a variety of metals, she has created must-have, elegant yet playful sparkling creations that are of the finest quality workmanship designed for kind people! When you're looking to rock the leaf with elegance and class, Kind Fine Jewelry has the jewelry and kind accessories you need!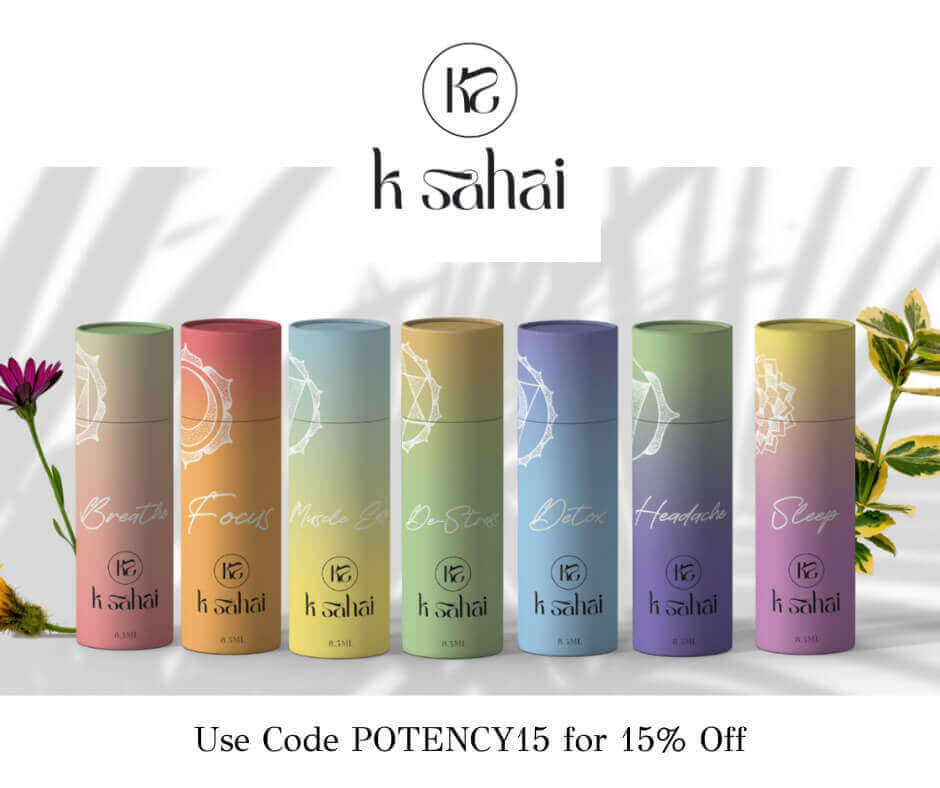 Founded by Kavita Sahai, the eponymous brand K Sahai offers customized face oil blends, and a wide range of essential oil roll-on products made utilizing sustainably sourced, organic, and wildcrafted ingredients bringing you as close to nature as possible. Just the way we like it here at Potency No. 710. Whether you are looking to focus, de-stress, sleep, detox, or simply breathe, a unique formula awaits you from K Sahai. Be sure to take their skin quiz to receive your personalized skincare ritual recommendations, or jump right in and formulate a unique skin oil made especially for YOU!
Coffee. Not many of us can live without it, but what we can live without is the crash, jitters, and lack of nutrients in the way we start our day. Since finding MudWtr, this part of the morning routine has drastically changed. Their blends are made utilizing mushrooms, along with organic herbs and spices. The formulas include little to no caffeine helping you to rise naturally, find balance through the day and drift into a peaceful rest at night!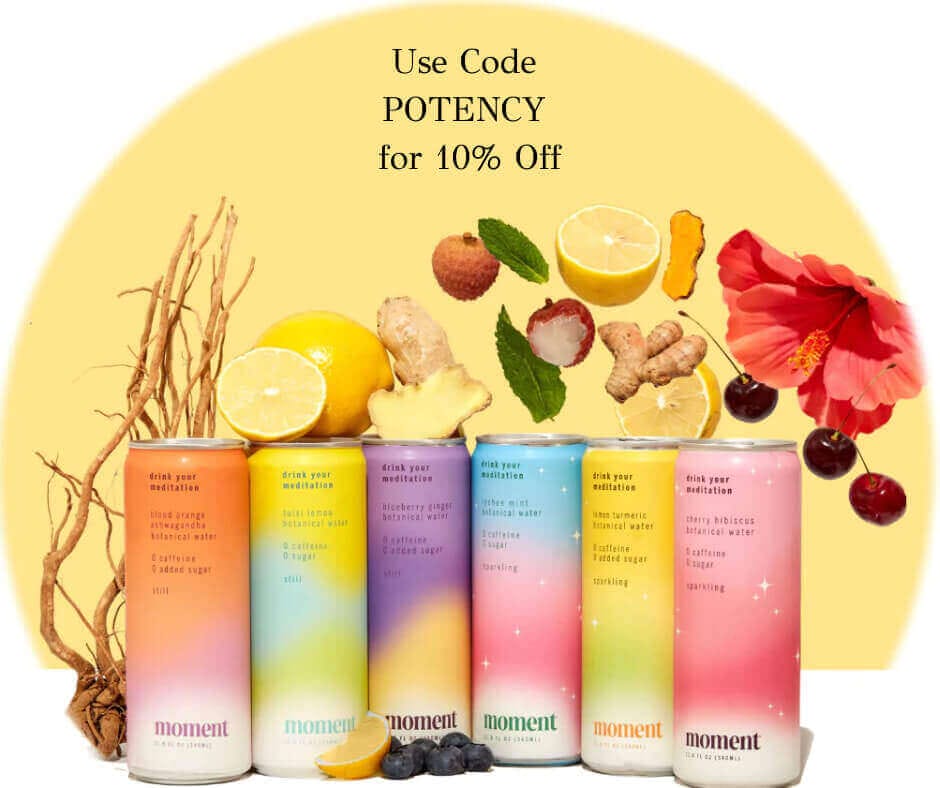 As seen on Shark Tank, The New York Times, Forbes, and more, MOMENT beverages allow you to drink your meditation. This is because they are packed full of natural ingredients and adaptogens such as L-theanine and Ashwagandha, which helps to increase alpha brainwaves, similar to how meditation does. Go ahead; what are you waiting for? This is your MOMENT!
Love+Chew cookies were founded by a fantastic lady named Lauren and are a must-have in the Potency headquarters. These tasty protein-packed (7g per cookie) treats are certified vegan, paleo-friendly, gluten-free, and made utilizing only the cleanest of ingredients. Did we mention that they come in tastebud tantalizing flavors such as cherry almond, mocha chip, banana bread, and chocolate chia, among others? Great for a quick breakfast on the go, an afternoon pick-me-up snack, or a sweet indulgence for dessert!
Amborella Organics offers seed-bearing lollipops, which consist of botanical candy filled with herbs and flowers throughout. The stick is biodegradable and, when planted and watered daily, will result in an herb or flower blooming! This balance of give and take from nature is a quality we love here at Potency No. 710. Not to mention with flavors such as Sage & Marshmallow, Peach & Marigold, Rosemary & Mint, and Green Apple & Chamomile, among many others, there is a delectable flavor for everyone!
Fuss and Friends is a women-owned and operated California-based brand offering daily wellness tinctures for our four-legged friends. Available only in CA, these omega-3 and cannabis-infused tinctures are carefully crafted and made utilizing sustainably sourced nutraceuticals and cannabis to help promote better overall health and happiness for your furry friends. Looking for quality cannabis infused products for yourself in the state of California? Perhaps you may also be interested in Dr. May's awarding winning simple, clean cannabis!
Founded by Jill "The CannaBoss Lady" Cohen, this boutique in Maplewood New Jersey, is a full-service CBD beauty and wellness shop offering everything from Potency No. 710 CBD skincare to tinctures, gummies, arousal oils, pet treats, candles, and more! In addition to the physical store, all the CBD products offered are also available in the online shop linked below! Jill is also the founder of Elevated by The CannaBoss Lady Dispensary, which will be opening in the Spring of 2023!
This page contains affiliate links. Qualifying purchases through those links may result in a small commission at no additional cost to you. Learn more about affiliate marketing here.