Today's market is saturated with beauty products. It seems there are several products for every part of our face and area our skin covers. Many are formulated to do one thing, be it to moisture, prevent bags under the eyes, reverse chapped lips, smooth wrinkles, or a plethora of other aspects. Rarely is a product multipurpose. Take a look in your beauty product satchel and on your bathroom shelves. It is likely you are a victim of this over-commercialization of beauty products. I know I was at one time and know many others that were and still are. These individuals, however, have not put their faith into the Potency No. 710 product line offering multiple of what we call hybrid products.
Gold Serum
Potency's groundbreaking botanical face serum, the Gold Serum, is one of the most diverse in the product lineup. In fact, we wrote an article many moons ago regarding some of the uses of this powerful formula. As hundreds of more individuals have embraced this product over the years, we have started learning of its efficiency in many different use cases. We believe it is due to its concentration of highly beneficial plant-powered ingredients and the synergy between them.
The Potency No. 710 Gold Serum includes the following ingredients.
Full Spectrum CBD Oil
CBG
Argan Oil
Bergamot Peel
Blue Chamomile Flower
Blue Tansy Flower
Camelia Seed
Cinnamon Bark
Cistus Leaf
Cocoa Seed
Coconut Oil
Frankincense
Ho Wood Leaf
Jasmine Flower
Jojoba Oil
Osmanthus Flower
Patchouli Lead
Rose Flower
Sandalwood
Spruce Leaf Oil
Vanilla CO2
Vetiver Root
Vitamin E
Ylang Ylang
This powerful combination of plant-based ingredients is a powerhouse of benefits not just for your face but your entire body! This combo allows this product to offer a wide range of benefits and makes it a perfect candidate in multiple use cases. Some of the benefits, properties, and abilities of these plant-powered ingredients include but are not limited to.
Anti-Aging
Antibacterial
Anti-Fungal
Anti-Infectious
Anti-Inflammatory
Antioxidant
Antiseptic
Anti-Viral
Aphrodisiac
Balances
Exfoliates
Hydrates
Lifts And Tightens Skin
Moisturizing
Protects Against Free Radicals
Protects Skin Cells
Provides a Soothing Topical Barrier
Purifies The Skin
Reduces Dark Spots
Repairs Skin Cells
Check out some of our favorite hybrid uses cases for the Gold Serum below!
Spider Bites – If you have ever been bitten by a spider, you know how scary it can be. A dear friend of Potency's founder Mandy Lile experienced this several months ago and found that the Gold Serum, when applied to the bite and surrounding area, provided much relief for the pain, itching, swelling, and redness it caused.
Burns- The soothing topical barrier provided by the application of Gold Serum helps to cool the skin in the case of a burn as well as provides a protective layer between the burned area and environmental factors. Its ability to repair skin cells as well as to moisturize makes it a no-brainer for burns. I have personally found myself keeping a sample bottle of Gold Serum in my kitchen in the event of burns, so I have quick access!
Bug Bites – Like the spider bites mentioned above, we have also received reports of as well as experienced the effectiveness of this product in relieving the pain and itching associated with bug bites of various sorts, including those pesky mosquitoes!
Skin Irritation – There are many things that can cause general skin irritations, including foods, products, and environmental factors. We have found that the Gold Serum works magic in these cases and has become the go-to product for irritated skin for many of our clients.
Lip Hydration- No need to purchase lip balms or chapstick! Simply place a drop of Gold Serum in the palm of your hand and use a finger to apply evenly to lips for complete hydration!
*This information is not meant to substitute medical advice or treatment.*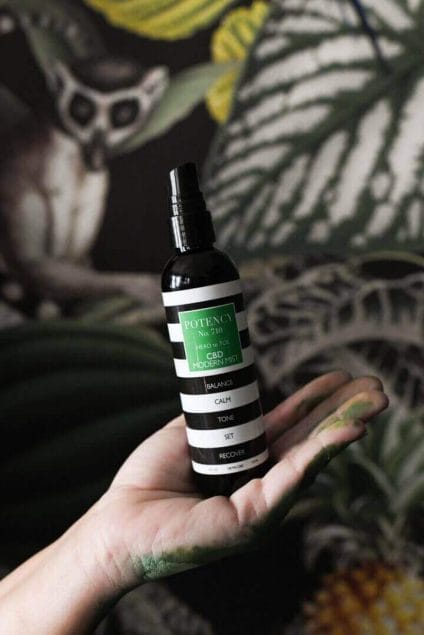 Modern Mist
This proprietary formula is powered by CBD, Witch Hazel, Bilberry, Citron (Citrus Medica), Green Tea, Lavender Oil, Orange Fruit Extract, Coconut Oil, and Jojoba Oil. While we recommend utilizing the Modern Mist prior to applying the Gold Serum as a daily use toner, there are many other superpowers this product possesses and multiple other use cases where we have found it to be quite effective! Some of the properties this product possesses are as follows!
Anti-inflammatory
Antioxidant
Balances
Calms
Hydrates
Refreshes
Tones
Check out some of our favorite hybrid uses cases for Modern Mist below!
Detangler – A couple of quick mists of the Modern Mist makes brushing out the tangles easy and provides a lasting sweet aroma in the hair.
Pick Me Up – Forget about splashing your face with water; simply mist for a quick pick me up/refresher!
Cool Off – When the weather is hot, it doesn't mean you have to be! A quick spritz of Modern Mist will help cool you off quickly!
Post Workout Refresher – The cool refreshing sensation the Modern Mist provides is great for head-to-toe post-workout hydration!
Future Face Mask
Activated charcoal is a hot ingredient in beauty and skincare products, with products such as cleansers and masks being at the forefront. Our Future Face mask includes 250mg of CBD, activated charcoal, hyaluronic acid, bentonite and kaolin clays, coconut, and sunflower seed oils, along with blueberry extract and vitamins B2, B5, and B12.
This formula of ingredients offers amazing benefits to the skin and can be used in more places than just your face! Some of the benefits offered by the ingredients in this product are as follows.
Anti-Aging
Antioxidant
Anti-Wrinkle
Deep Cleansing
Increases Skin Elasticity
Moisturizes
Soothes
Check out some of our favorite hybrid uses cases for the Future Face Mask below!
Foot Scrub/Mask – Your face isn't the only place that can use a good masking! We have found the Future Face mask to work wonders when used per the directions on our feet, leaving them smooth and hydrated!
Dry Elbows – I'm not sure what it is about this area of our skin, but thousands of people suffer from dry, ashy elbows that are not only unattractive but also painful, itchy, and overall unhealthy for your skin. While many choose to simply moisturize this area, masking your elbows with a product such as the Future Face mask with activated charcoal allows you to pull all of the deeply rooted free radicals from the area.
Filthy Face Cleanser
The Potency No. 710 Filthy Face activated charcoal cleanser is an addictive face cleanser that will have you craving its smell and texture! This hybrid product is packed full of powerful plant-powered ingredients such as activated charcoal, organic aloe vera, green tea, white tea, organic coconut, organic orange peel, and vitamins B5 & C. Some of the properties and benefits offered by this ingredient combination include the following!
Anti-Aging
Antibacterial
Antioxidant
Brightens
Detoxifying
Hydrating
Lightens
Moisturizing
Refreshing
Soothing
Check out some of our favorite hybrid uses cases for the Filthy Face cleanser below!
Full Body Cleanser – This amazing, activated charcoal cleanser isn't just great for the face, it can be used on the entire body! From time to time, we like to indulge in a full body cleaning with this potent hybrid product to pull free radicals from the skin!
Greasy Hands – Tough on even the worst of messes! This activated charcoal cleanser will pull all the yuck and grime from even the greasiest, dirties of hands. So, when things get filthy, get Filthy Face and watch the magic happen!
Conclusion
As you can see, these products offer many other use cases outside of their originally intended purpose, and this is exciting for many reasons! We love that our formulations allow people to indulge in self-care in a conscious and natural way and hope that you find inspiration in these use cases and the hybridity of Potency products. What other use cases have you found for Potency products? Let us know in the comments below!
*This information is not meant to substitute medical advice or treatment.*