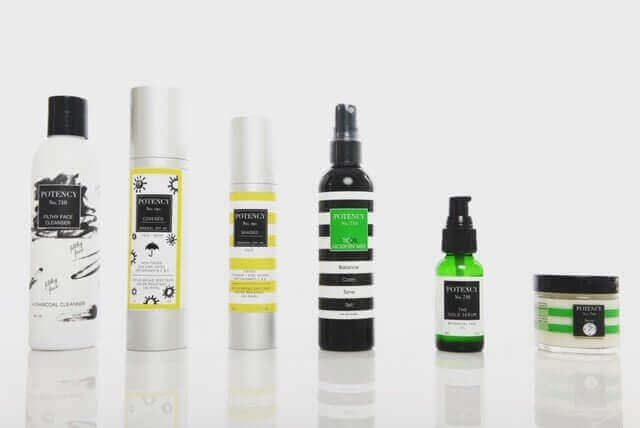 Potency No. 710 was just launched 18 months ago, and since then, we have seen great success thanks to beautiful individuals such as yourself having faith in our products and putting them to the test. Unlike many other skincare product providers, Potency No. 710 is not just disrupting the CBD skincare scene; we are disrupting the beauty industry. Our first and foremost priority is offering quality natural products that may provide significant lifelong benefits to our consumers and their health.
Potency No. 710 Goes Above and Beyond
Potency No. 710 isn't a CBD company but rather a company focused on overall health and beauty. A company that knows firsthand that CBD and spectrum whole-plant hemp is where it's at when it comes to improving the health of our skin. For this reason, there are several steps that we take to ensure that our products go above and beyond anything else that you will find available on the market today. Let's take a closer look at what stands Potency No. 710 apart from the rest.
Small Craft Batches
Unlike major CBD wholesale providers, the products offered by Potency No. 710, such as the Gold Serum, are made in small craft batches. Additionally, they never sit on a shelf; therefore, their integrity is never degraded. By making our products in small craft batches, we can ensure that they include as many vitamins, minerals, and the highest cannabinoid content possible for consumers.
Full Spectrum Whole Plant Product
While many CBD skincare products contain valuable content, not all of them utilize whole plant full-spectrum CBD. By using whole plant full-spectrum CBD in our Gold Serum, we are providing consumers with all of the potential benefits possible from this plant and not just the isolated benefits of CBD alone. Project CBD highlights a study in this article that solidifies the belief that whole plant is better than isolate and that cannabinoids work better together than alone!
Transparent Testing
All products offered by Potency No. 710 undergo vigorous testing before they are provided to our customers. The lab testing for all of our products can be easily accessed directly on their product pages before or after purchase. We regularly send small samples of our product for testing to ensure that we always provide our consumers with the highest quality and purest product available with each small craft batch produced.
Rooted Founders
Mandy Lile is the founder Potency No. 710 and has been part of the cannabis culture most of her life. Her fiance' and business partner Harry Ezajian has had vested interests in the cannabis sectors for many years. Together, they have strong roots in the cannabis culture and community clique agora. You can see this, along with their passion for offering only the best for consumers as it shines through in every product available at Potency No. 710.
Superior Customer Service
We believe that a product is only a good as the people that stand behind it. That is why Potency No. 710 offers excellent customer service. We frequently send out samples of our products to consumers that are interested in seeing if our products are the right fit for their needs. We also hand package all of our shipments with love and care firsthand. Additionally, if you have any questions or concerns about your purchase before or after or simply want to learn more about our products, we are always here with a listening ear and eager to help!