Dusty, Crusty, Ashy, Itchy, Painful, Peeling, and Thirsty – You may be thinking, "that sounds like a horrible 7-dwarf lineup", but these are actually some of the symptoms of dry and dehydrated skin!
Summer, winter, spring, and fall, just pick one; our skin endures punishment through them all. Knowing how to care for your skin can lead to a happier, healthier you. Potency No. 710 would like to take a moment and talk about two very common problems, dry skin and dehydrated skin. Some people might think they're the same thing, but they're actually very different.
A good skincare routine is essential in the harsh environments we live in today. Our skin is the largest of our organs. It goes through all types of abuse daily while helping hold us together. The weather, our environment, soaps, detergents, cleaners, germs, hand sanitizers, chemicals, and so much more can be brutal to our skin.
Each season has its ups and downs for those who live with sensitive skin. If you're one of the lucky ones who seem to always have healthy skin, you'll still want to keep reading. You may learn new information or ways to help others who suffer from dry or dehydrated skin. Let's look at dry and dehydrated skin and see how some simple lifestyle changes can help lead you to the path of healthier, happier skin.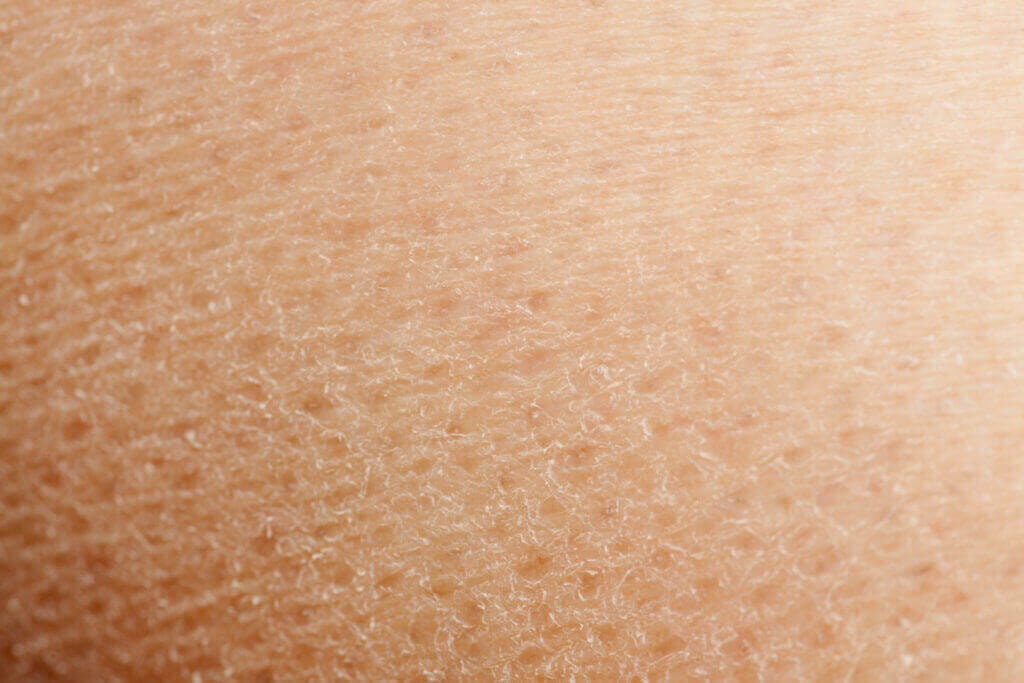 Dry Skin
Medically, dry skin is a condition referred to as xeroderma or xerosis. Dry skin can become extremely problematic, becoming more than a nuisance. It can severely impede daily life. The American Academy of Dermatology Association says, "Dry skin can flake, itch, crack, and even bleed." Unfortunately, most people will experience dry skin at some point in life. Sadly, some people battle dry skin daily.
Healthy skin is a full-time job entailing smart lifestyle choices combined with good daily skincare routines. Dry skin can be caused by underlying health problems, the weather, the environment, or many other factors. This condition can affect people of all ages. Those suffering from dry skin often have the toughest time managing this condition during winter.
In 2007, a National Health Interview Survey estimated that "81 million Americans experience dry, itchy, or scaly skin during the winter months." You don't have to suffer from dry skin. Help is out there. The best way to help avoid/fight dry skin is by knowing what to look for and what to do to help prevent, avoid, and repair dry skin.
5 Common Symptoms of Dry Skin
Small or Invisible Pores
Sunken Eyes /Under Eye Circles
Itching / Flaking
Fine Lines and Wrinkles
Stinging or Burning Sensation
Ways to Help Avoid/Repair Dry Skin
Wash with Mild Soaps That Don't Produce a Rich Lather
Dry Your Skin Delicately by Patting It Dry Rather Than Rubbing
Hydrate Yourself Regularly with Beverages Like Water and Fresh Juice
Eat Healthy Food, Including Lots of Fresh Fruits and Vegetables
Moisturize Your Skin Immediately After Showering and Several Times Throughout the Day
Utilize an Oil Based Skin Serum Daily
Dehydrated Skin
Dehydrated skin differs from dry skin. Dehydrated skin often leads to dry skin but is primarily caused by a simple lack of proper hydration. Drinking soda to quench your thirst can be dangerous, especially for those with sensitive, dry, or dehydrated skin. Soda contains sugar, caffeine, dyes, preservatives, and many other acidic ingredients which may wreak havoc on our skin.
To avoid dehydrated skin, one must simply take in more water than they release. A healthy diet, moderate exercise, and proper hydration can all help you avoid dehydrated skin. Skin can become dehydrated from excessive sweating, urinating, and unhealthy eating and drinking habits. The consumption of alcohol, tobacco, and other substances can also lead to dehydrated skin.
The good news is you can avoid, fight, and even repair dehydrated skin by knowing the signs to look for and what to do when you spot them. Good habits combined with the right skincare products can make a real difference in how you feel about the skin you're in. Let's look at symptoms of dehydrated skin and ways to help avoid/repair it.
5 Common Symptoms of Dehydrated Skin
Circles Under the Eye or Sunken Eyes
Dry Itchy Skin Accompanied by Dry Mouth, Dizziness, or Darker Urination
Flaking
Noticeable Fine Lines and Wrinkles
Redness and Irritation
Ways to Help Avoid/Repair Dehydrated Skin
What is the Difference Between Dry and Dehydrated Skin?
The main difference between dry skin and dehydrated skin lies in what the skin is missing. Dry skin is caused by a lack of oil in the skin and can best be addressed by adding a serum or botanical skin oil to your skincare routine. Dehydrated skin, however, is the lack of water and hydration within the skin and can be best addressed by eating fresh fruits and vegetables, hydrating with water more frequently, and adding water-based serums and toners to your skincare regimen.
CBD and Skin
CBD can be amazing for the skin. The authors of "Therapeutic Potential of Cannabidiol (CBD) for Skin Health and Disorders" concluded that the "therapeutic potential of CBD for acne, seborrhea, eczema/dermatitis, and skin barrier function is promising." But, as always, they had to throw in the "but needs more study" line we've been hearing for decades, thanks to continued corrupt federal cannabis prohibition.
Those suffering from dry and dehydrated skin as well as those with acne, often report seeing good results from using CBD products like Gold Serum, Filthy Face, Higher Good, and others. CBD also has anti-inflammatory benefits. "Evaluation of CBD in acne-like conditions revealed suppressed expression of pro-inflammatory cytokines, TNF-α, IL-1β, and IL- 6. CBD also reduced excessive lipid synthesis."- NCBI
Cannabinoids like CBD are amazing, containing neuro-protectant, antioxidant, and anti-inflammatory properties. We know this for a fact because the same people that keep giving us that old worn-out line saying more research on cannabinoids is needed just so happen to own patent #663050, "Cannabinoids as antioxidants and neuroprotectants."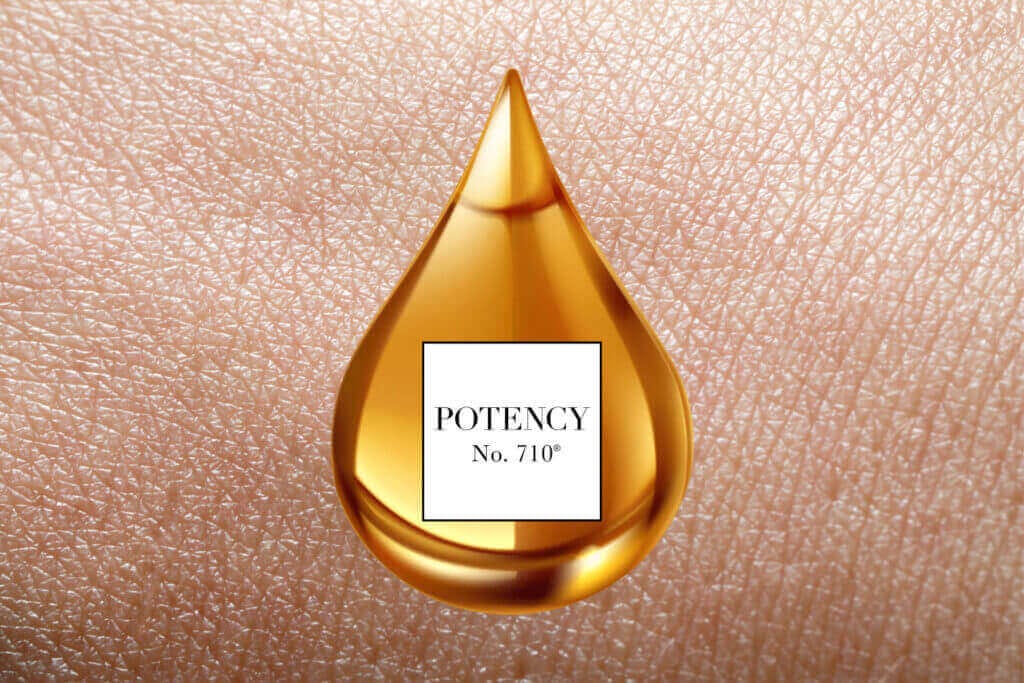 Potency No 710 Has What Skin Craves
Don't just put anything on your skin. Some products are filled with dyes, detergents, and other unhealthy ingredients like petroleum. Petroleum goes in your vehicle's engine, not on your skin. Always be mindful of skin care products.
They are not all created equally. Potency No. 710 has what skin craves, hydration. If you suffer from dehydrated skin or dry skin or just want to avoid both, Potency No. 710 is here to help.
Potency offers an incredible line of products like our new Hyaluronic Acid and Vitamin C serum known as the White Water Serum, our infamous botanical Gold Serum, the one and only craveable activated charcoal cleanser Filthy Face, our luxurious full body moisturizer known as the Higher Good, and more that can all lead you to the path of youthful, beautiful, radiant skin. When you want to make your skin grin, you want to treat it to Potency No 710.