"Grooming is the secret of real elegance. The best clothes, the most wonderful jewels, the most glamorous beauty don't count without good grooming." ~ Christian Dior
Grooming includes healthy hair, oral, and nail care, but it should also include skin care, even for men. After all, our skin is the largest organ in our anatomy and one that is often neglected by many. It is, however, just as an important part of grooming as showering, brushing your teeth, and using deodorant. Skincare for men is somewhat different than it is for women, as men naturally experience different skincare issues and have thicker skin which means they tend to have more oils in and on their skin.
An effective skincare routine doesn't have to include trips to the spa or hours in the bathroom applying products. With the right knowledge and products with the right ingredients, it can be easy to incorporate a skincare routine into your daily life.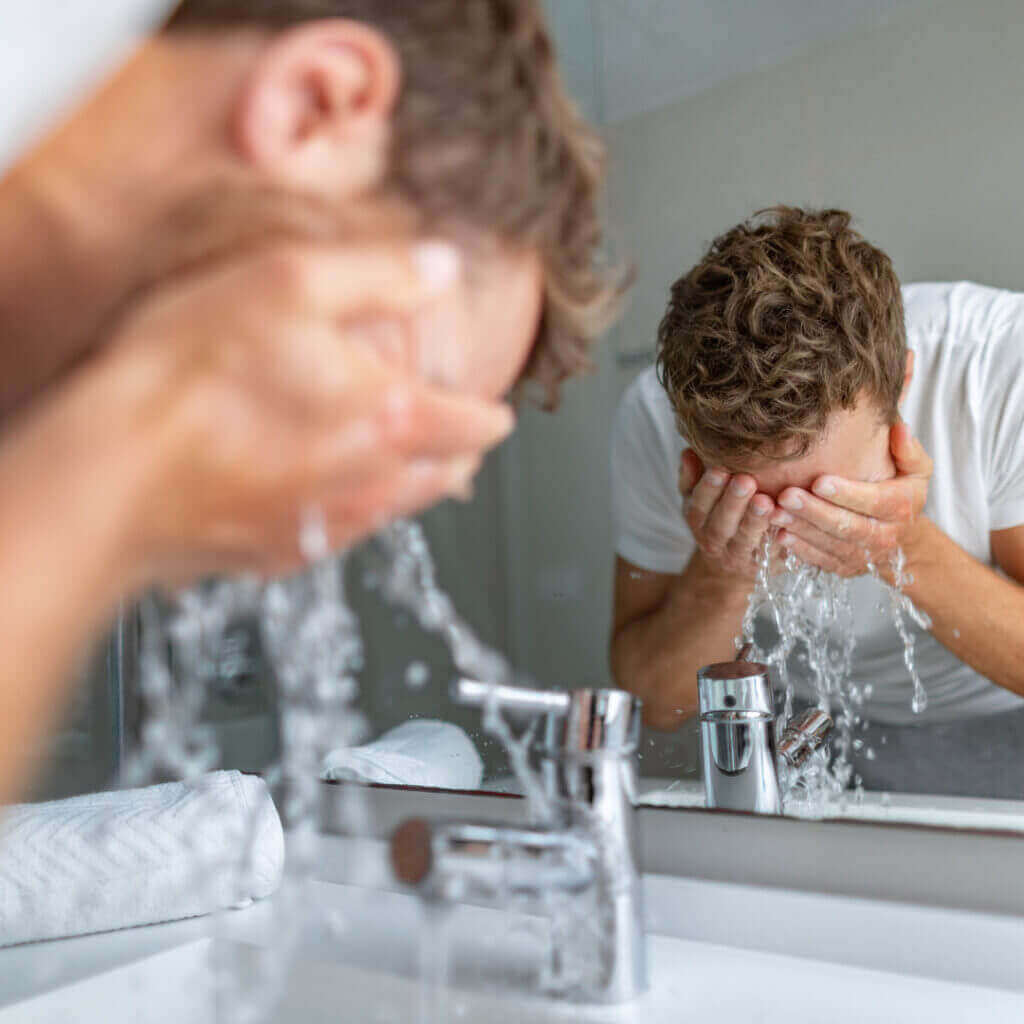 Washing Your Face
Washing your face is one of the best things you can do for the skin, as well as for caring for your beard if you are a lover of facial hair! It is important, however, that the cleanser that you use is gentle and free of harmful ingredients such as the ones covered here. Washing your face isn't just about cleansing it of oil, dirt, and grime. It is also essential for preventing bacteria from growing on your skin, removing damaged skin cells tainted by polluted free radicals, and balancing oils in the skin.
Moisturizing
Moisturize, moisturize, moisturize! We can't express this enough! The health of your skin is reliant on its ability to retain moisture. By utilizing a moisturizer daily, you help your skin in many ways. Moisturizing helps to create a protective, soothing layer between you and potentially damaging environmental factors. It also helps to slow down the reduction of your skin's naturally produced moisture in addition to replacing some of the oils that your skin naturally makes.
Moisturizing has also been shown to help prevent aging by nourishing your skin. Those that moisturize regularly have been shown to have fewer wrinkles, most likely due to the skin barrier which it creates. Moisturizing can also help to prevent outbreaks of common skin conditions such as eczema, as dry skin is the most common underlying trigger for the skin condition.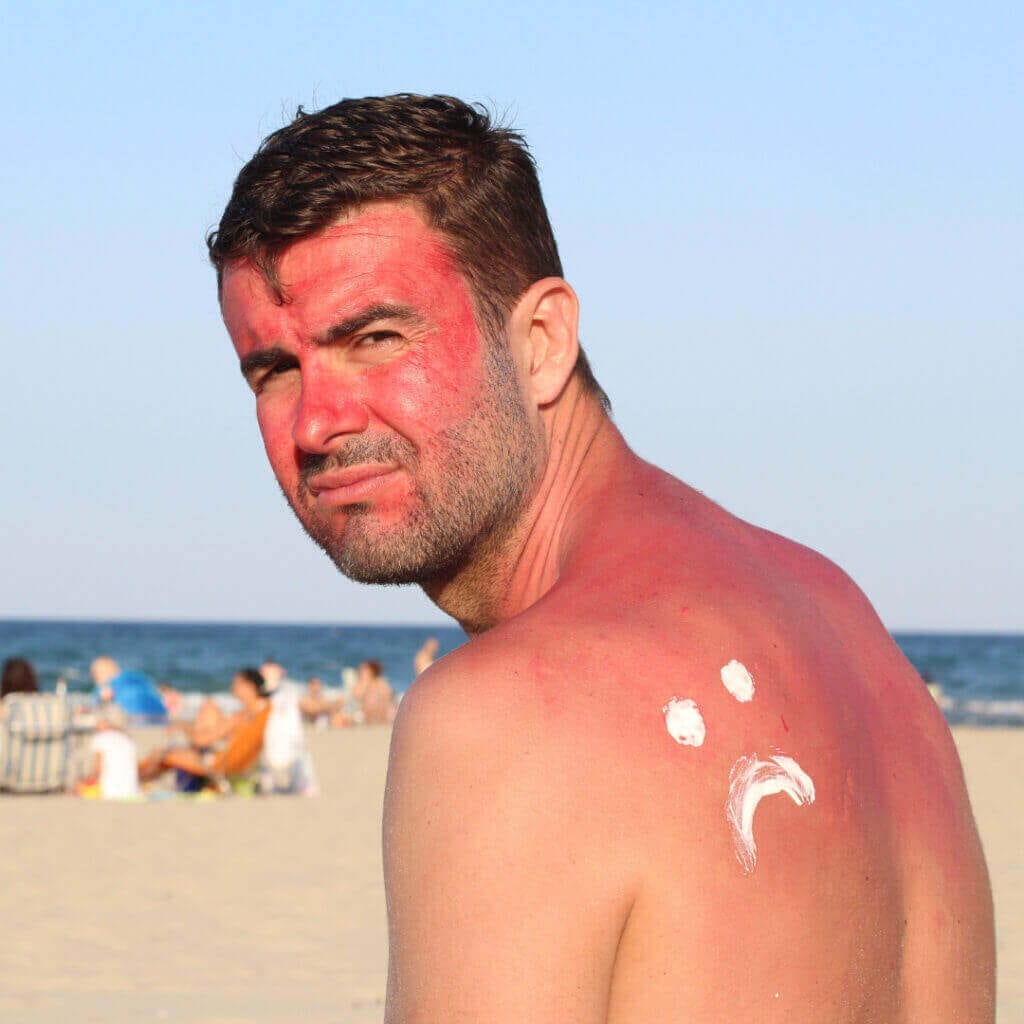 Sunscreen
Studies from Oxford University have found that men have a higher prevalence of developing melanoma, potentially because of higher testosterone levels in the blood in comparison to women. This means that it is essential that men protect their skin from harmful UV rays, and the best way to do that is by utilizing sunscreen daily on the face and other areas of the body that will be exposed to the sun. Unfortunately, according to board-certified dermatologist Corey L. Hartman, "According to reports, only about 14 percent of men use sunscreen on their faces and other sun-exposed skin when going outside."
Shaving Skincare Tips
Always cleanse before shaving, as it will help to open your pores and allow for an easier, smoother overall shave.
Use gentle shaving cream on moist skin to prevent rashes.
Use an exfoliant several times a week to remove dead skin cells to help prevent ingrown hairs.
AVOID ALCOHOL-BASED AFTERSHAVE PRODUCTS.
Apply moisturizers and/or serum after shaving.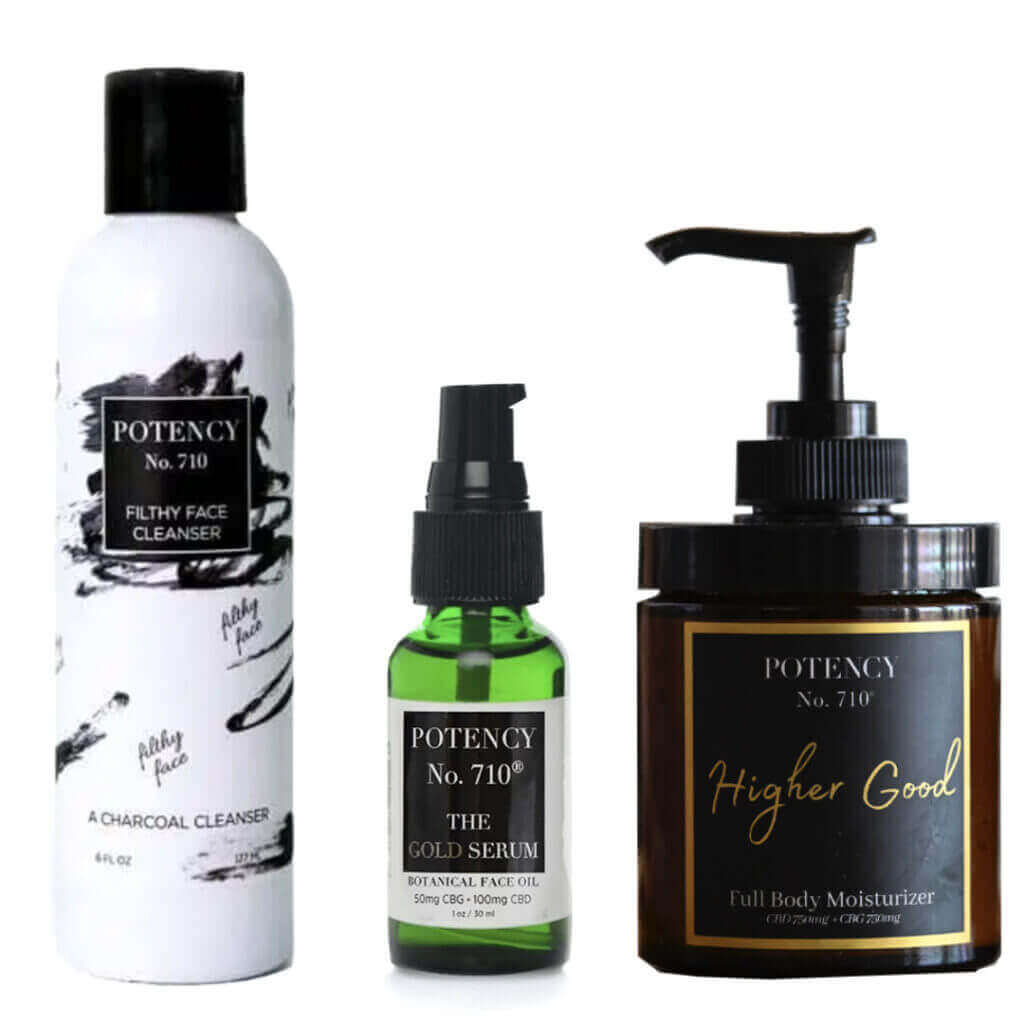 Potency No. 710 for Men
When it comes to skincare for men (or women), Potency No. 710 has you covered! Let's look at a few of the products that we recommend men add to their skincare routine!
Mineral Sunscreen | SPF Options
Potency No. 710 makes sun protection easy for men! Simply grab the Covered mineral sunscreen, pump it into your hand, and apply it to the skin! Our nature-powered mineral sunscreen options are made without harmful ingredients such as oxybenzone, which has been banned in places such as Hawaii because of the risk it presents to the aquatic ecosystem. Powered by zinc oxide and antioxidants C&E, this all-day sun protection option is free of dyes, fragrances, oils, and preservatives!
Filthy Face
The one and only Filthy Face is a gentle activated charcoal cleanser that is safe for all skin types. This 2 in 1 exfoliating cleanser is non-abrasive and ideal for daily use. Filthy Face is powered by activated charcoal, vitamin C & B5, green and white tea, as well as organic coconut oil, aloe vera, and orange peel, which provides a subtle, almost addictive, citrus aroma!
The Gold Serum
The Gold Serum, our OG product, is a botanical skin serum that offers moisturizing, antibacterial, anti-inflammatory, antioxidant, anti-fungal, anti-viral, and antiseptic properties, to name a few! With over 20 of the most sought-after essential oils and an infusion of CBD + CBG, it is a powerhouse of natural wonders! Did we mention that it has a very faint unisex smell that is loved by all?
White Water Serum
The latest product in our nature-powered lineup is the White Water Serum. This water-based serum is powered by CBD, CBG, Vitamins C&E, Hyaluronic Acid, sweet orange, lavender, and Camu Camu Fruit extract. This hydrating, vitamin-fortified lightweight serum offers potent anti-inflammatory, anti-aging, hydrating, and protective properties!
Higher Good
Last but not least, the Higher Good moisturizer has become a favorite among our male clientele. This full-body moisturizer is a thick creamy nature-powered moisturizer packed with potent concentrations of CBD + CBG, as well as the amazing properties of green tea, jojoba seed oil, argan oil, shea butter, mango seed butter, and cacao seed butter. The deep, rich, warm notes of myrrh and tonka last all day long, so not only does your skin feel great, but it smells great too!
What Men Are Saying About Potency No. 710 Skincare Products
"This is a great moisturizer, I'm a mechanic, so my hands are thrashed, this makes my hands feel great after a hard day working, tried it once and I'm hooked!" – Michael
"I love that the scent of the Filthy Face cleanser is very faint. It feels so incredible on the skin, I often find myself using it from head to toe! Highly recommend!" – James
"I never thought about using skincare products before, but my wife loves the Gold Serum, and one day I was out of my aftershave, so I decided to give it a try instead. Let's just say, I haven't turned back!" – Brandon
Suggested Routine
Wash your face, and apply sunscreen, serum, and moisturizer in the morning.
Wash your face and apply serum and moisturizer at night.
Simple right? With Potency No. 710 products, you can complete your entire skincare regimen in less than 10 minutes a day! What are you waiting for? Get started with Potency No. 710 products today!